After doing a bunch of research before purchasing my new HSF, I figured people might want to have a little more information about before making their purchase.
Glossary of terms:
There's a bunch of specialized vocabulary you need to know before you can take a look at any of the HSF (Heat Sink Fan) websites:
Backplate: a four screw plate that attaches behind the motherboard to mount the heatsink. When you read about heatsinks that require removal of the motherboard for installation, this is usually why. Very few heatsinks require a backplate for AM2 motherboards.
Base: the bottom of the heatsink that touches the CPU.
CFM (Cubic Feet per Minute): the amount of air that the fan pushes through the heatsink. (Note: all heatsink fans should blow towards the heatsink.) As a general rule, CFM can be determined visually by the thickness of the blades of fan. Silenx fans are well-known for a high CFM.
HDT (Heat-pipe Direct Touch): a heatsink that uses heatpipes but does not have a base. The pipes touch the CPU directly.
Heat pipe: pipes, usually made of copper, that contain a heat transfer liquid, that evaporates when heated, rises to the cool end, condenses, then returns to the hot end.
Passive or Active Cooling: passive cooling is a heat sink without a fan. Active cooling is a heatsink with a fan. Some heatsinks do not include fans, and can be used for passive cooling. However, this is not recommended and if the HSF you want doesn't have a fan, you should consider buying one.
TIM (Thermal Interface Material): This can take the form of thermal paste, thermal grease, thermal compound, or thermal glue. In all cases, the function is the same: to minimize the number of spaces between the heatsink and the CPU to maximize heat dissipation. Currently, not a single HSF manufacturer recommends a heatsink without TIM, and every single manufacturer recommends using TIM, and most today will include TIM with the heatsink. Quality varies wildly. (See "Choosing a TIM")
Part 1: Design Features
Today, there are many different designs of heatsinks. The important characteristics you need to look at are:
Heat Transfer Method: This means how does heat move from the cpu to the radiator to outside the case. The major types are:
-Heat-pipe: a pipe carrying heat transfer liquid is encased in pipes. as the liquid is heated, it changes to a gas, rises to the radiator/fans, is cooled, and condenses back into a liquid.
-"Box-type": these are hsf's that usually are included with chips. the heatsink is directly touching the cpu in most cases. Heat-pipe technology is so superior to box-type hsf's, that no box-type currently is even considered a "high performance cooler."
-Water cooling: water has a much higher ability to carry heat than air or metal. However, the size and ability of the radiator still matters in it's ability to cool the CPU. A water cooling unit with an inadequate radiator performs worse than an air-cooling unit with a large fin area.
-Hybrid-Peltier or air conditioning: The Peltier method is a way to achieve below room-temperature results. However, along with air conditioning, the main issue is condensation. This is the only design that does not require a radiator or fans.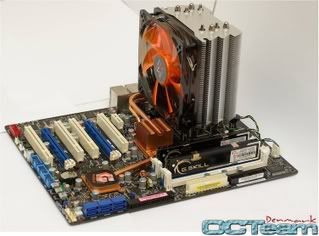 Size: just like your first girlfriend, don't believe it when a review says a smaller cooler is just as good as a larger cooler. Today's top performing hsf's generally run a minimum of 120-150 mm in height, with a minimum of 120mm fans. There appears to be a ceiling for the heat pipe designs at 160mm.
Orientation: In general, the hsf's fan should blow towards the back of the CPU. Those with fans that blow in any other direction have less performance. "Low profile" hsf's are generally orientated so that the fan is parallel to the motherboard. These hsf's have about 10-25% less performance than hsf's oriented perpendicularly to the motherboard.
Base: How does the hsf come into contact with the CPU? The best designs today (with one important exception) all have heat pipes directly touching the CPU, also known as "HDT." Other designs use a cover or another layer of metal between the heat pipes and the cpu.
Fans: Again, bigger is better, but not just in width and height. Thickness and width of blades affects the CFM of the fan. Some hsf's do not come with fans, and thus need to be purchased separately. For example, the Xigmatek S1283 is considered one of the best coolers today. Xigmatek then recycled the design but changed the positioning of the heat pipes and added an LED fan as the S1284 Achilles. Performance was horrible compared to the nearly identical S1284. Then, the S1284 EE was introduced. It replaced the LED fan of the Achilles with a larger, high volume fan. The S1284 EE gets about 2C better performance than the Achilles, and gets very close to the S1283.
Contact Area: to maximize heat dissipation, the hsf must have maximum contact with the cpu. some hsf's, either because of choice or poor manufacturing, do not have flat contact surfaces. TIM can help somewhat, but the best situation is to have a flat HSF and a flat CPU.
In summary, the best air-cooling options today generally look very similar to each other:
A flat, HDT base with 2-6 copper heatpipes
A 120-150mm tower of fins, perpendicular to the motherboard
Some sort of fan that blows through the fins, towards the back of the CPU
Other design options, like dual fans, color, fin material, anchoring/latching mechanism, LED lights, etc. have little or no impact compared to the options above.
Part 2: Accessories that affect performance
A few manufacturers include accessories that do affect how well an hsf performs.
Choosing a TIM: Some manufacturers include high-quality thermal grease, gel or paste with their hsf. Most don't. A good TIM will affect temperatures by 3C+. Changes as high as 10C have been reported. If you are planning on keeping your computer over 2 years and don't mind a burn-in period of 24 hours or more, thermal paste (like Artic Silver 5 or Ceramique or IC Diamond 7) are the best choice. If you don't plan to keep your computer over 2 years (or plan to change the TIM regularly) a thermal grease or gel has better short-term performance without a burn-in time (Masscool Shin-Etsu X23 gel or G751 grease or Artic Cooling MX-2 grease.) In either case, the way a TIM works is that when two metal surfaces meet, they do not touch each other completely, but there are microscopic scratches, pits and indentations that prevent them from touching. TIM contains a metal or other thermal transfer method that helps connect the two surfaces, maximizing contact area.
Fan speed control: Since many motherboards do not allow CPU fan speed control, a few hsf manufacturers include a 1-3 speed fan speed control with their unit. This has the biggest affect on noise. If you are concerned about noise, the best option is to choose a hsf that includes a fan control, or buy one separately ($6+.) As a general rule, fans at maximum speed are always noisy, and fans at lower speeds are always quieter.
Vibration absorbers: probably the only advantage of the push-pin installation is the option of placing vibration absorbers between the hsf and the motherboard. Vibration absorbers, usually made of rubber or silicone, can also usually be purchased as fan mounts.
Backplate heatsink: Some heatsinks offer additional cooling in the form of a heatsink that fits on the back of the motherboard, behind the CPU. In general, this causes too many installation hassles for the average user. Advanced users will generally use a backplate cooling system but not air cooling.
Part 3: Installation
Installation generally comes in two types: backplate mount or AM2 clip. In nearly all cases, the backplate mount is used to attach a rubber ring that is then used in conjunction with the AM2 clip. In general, the backplate mount requires removal of the motherboard from the CPU, greatly increasing the hassle of installing it. As AMD owners, just look for one that has AM2 clips. Push-pin mounts are also available, but are considered the worst mounting method.
In rare cases, installation is a two person job, as one person has to hold the hsf in front of the board, while the other person is behind the board, holding the backplate, and screwing everything in. This is a particular idiosyncrasy of round hsf's that cannot lay upside down on a table.
TIM spreading is another important hsf installation issue, and opinions vary wildly about the "proper" application. This article:
www.innovationcooling.com/applicationisnstructions.htm
shows a clear winner in the TIM spreading discussion.
(Note: Do not ignore the "hazing" note at the bottom of the article.)
Lapping is another issue in hsf installation, where the importance has yet to be clearly determined. Lapping is the process of sanding the contact surface of the hsf and cpu to maximize contact area. This article:
www.innovationcooling.com/Indepandentuserpressuretest.htm
is a good argument both for and against lapping. It shows contact area's importance in hsf performance, yet also shows that good contact can be achieved through pressure alone.
Articles about lapping:
www.tomshardware.com/forum/235616-29-finished-lapping-q6600-with-pics-results
www.tomshardware.com/forum/235216-29-lapped-ultra-extreme-pics-temp-results
Notes about lapping:
Some units, notably those from Thermalright, have purposely uneven bases and should be lapped for AMD cpu's.
There is no comprehensive study yet that proves lapping works or doesn't.
Lapping voids all warranties.
As the evidence begins to mount, it appears that contact area is key. Poor contact will result in poor performance, lapped or not. Therefore, pressure is a much more reliable way to induce good contact than lapping.
Pressure: As noted above, pressure is very important in proper hsf installation and performance. The best way to achieve pressure is a backplate mount. however, with AM2 clips, this is not an option. To achieve good pressure, it may be preferable to use a backplate mount on an AMD board. The Thermalright hsf's, even though they do not have HDT and do not have flat contact areas, continue to have scores in the top 5 on most websites. This may be solely because of the high pressure achieved through the use of backplate mounting.
Part 4: Understanding Performance Data
To prevent this guide from becoming outdated, I would prefer if it educated readers about how to look at and interpret review information on their own.
In general, here's what you should look for in hsf review data:
Testing Bed: How was the hsf tested? In general, if the hsf was tested by throwing a bunch into the same CPU and then measuring it with Speedfan, this is highly unreliable, and results from different tests from the same website usually cannot be compared (or even duplicated independently.) Frostytech (www.frostytech.com) uses a specially made testing unit that allows results to be uniform...since 2001.
Test Reporting: Another thing Frostytech does that I really like is that they report results as change over ambient, or room, temperature. Air and water cooling cannot lower temperatures below room temperature. Without this, you have to manually calculate results yourself based on reported (if reported) ambient temperature. C/W is another popular method of reporting results. This method reports temperature change based on the wattage used to test it, but is much more confusing than Frostytech's method.
Measuring Results: Measuring results through software or motherboard sensors is a very bad way to measure results. Reviewers who use professional grade thermostats are better.
Wattages tested: Most websites will only test idle and load temperatures. Idle temperature, because of the nature of air cooling and ambient temperature, is a useless measurement. Load temperature is the only measure that really tells you how well an hsf performs, but is not comparable across computers (e.g. a full load Q6600 vs a Phenom 9750 would not be comparable.) Frostytech compares hsf's at 85w, 125w, and 150w.
Airflow: Since most testing is done on motherboards without cases for ease of installation, they do not take into account the airflow of a particular case. Airflow has a large impact on hsf performance. If your hsf does not perform as well as a site review says it should, this is probably why.
Note: In the cases of water cooling or hybrid-Peltier cooling, the above may or may not apply. Also, a poorly performing water cooling or hybrid-Peltier system is difficult to detect since "bad" peformance is generally much better than the air cooling solutions discussed here. However, this probably won't be an issue for somebody reading this article, since this is aimed for average users looking to spend less than $100 on cooling. Just understand that if you find a cheap water or hybrid, odds are it will be outperformed by an HDT-perpendicular-120mm+ cooler.
Part 5: Costs
In general, a good HDT-style hsf will cost anywhere from $30-70 with nearly identical designs and performance. However, depending on the additional costs, installation issues, and extras desired, this can vary wildly. In my opinion, a good hsf package should include:
a high-performing heat sink (HP)
a fan (F)
a fan control (FC)
all necessary basic mounting tools (AM2 or BP/backplate)
Note: the hsf's below are all "high performance" and vary within 1-2 C of each other.
Here are my notes from the research I did for my recent hsf purchase:
.............................Cost.........HP..........F.........FC........Mount?
Sunbeamtech
Core Contact
Freezer..................35-40.........Y..........Y(1).....Y...........AM2/BP
Xigmatek
S1283....................35-40.........Y..........Y(1).....N...........AM2/BP
Thermalright
Ultra 120 or
TRUE......................70+*.........Y...........N........N............BP
Silenx iXtrema
IXC-120HA2............45+*.........Y...........Y(2)....Y............AM2/BP
*Thermalrights do not come with fans. The Silenx requires purchase of the 2nd fan.
Fan controls for the Xigmatek and Thermalright can be purchased separately for around $6.
Top Rated HSF's, 2008, HDT design, perpendicular installation, 150mm or taller
Silenx IXC-120HA2
Sunbeamtech Core Contact Freezer
Thermalright IFX-14
Thermalright Ultra 120
Thermalright Ultra 120 Extreme
Xigmatek S1283
Xigmatek S1284EE
Part 6: Design Flaws
While this article does recommend HDT, 150mm+, perpendicular hsf's, what if you don't want one, need one, or see an attractive one? If you apply the basic principles above, and check several reputable websites before your purchase, you should be ok. However, there are some designs that just do not work or are not worth the effort.
For comparison, let's compare the statistics vs. the designs above with numbers from Frostytech. On average, the hsf's above will get:
85w test: 11C over ambient
125w test: 13C over ambient
150w test: 17C over ambient
HDT, non-perpendicular design
Quite popular nowadays is the "small profile" HDT cooler, such as the Nexus HOC-9000.
85w: 14.6
125w: 17.0
150w: 23.6
I suspect that these designs do not work, even though surface area, fans etc. are even larger than the former design, because of the nature of heat-pipes. The liquid evaporates, condenses, and returns through gravity to the contact point. After installation, there are usually huge bends where liquid is trapped or is unable to return to the contact point.
HDT, perpendicular design, under 120 mm
For some people, 150mm+ is an impossibility because of case size. If you have other fans in the way, my recommendation is to remove those obstacles in favor of the larger hsf. If case is a limitation, shorter HDT, perpendicular designs, are available, like the Xigmatek S963.
85w: 13.7
125w: 16.3
150w: 21.9
I suspect these Mini-me HDT's don't work as well because of fan size and CFM. These generally sport 90mm (vs 120mm) fans. However, if you are unable to install a 120-150mm tower fin-hdt-perpendicular, this would be the next best choice.
Heat-pipe, perpendicular design, softball-style fin
The original HDT design that started the recent revolution could be the Zalman CPNS 9700. However, the tower fin design has proved to be much better at dissipating heat.
85w: 12.4
125w: 16.5
150w: 20.3
Except for the Thermalright units, nearly all heat-pipe designs that do not directly touch the CPU are inferior to those that do.
HDT, Perpendicular, 160mm, insufficient fan
While the HDT design is excellent in transferring and dispersing heat, don't ignore the fan. The Xigmatek S1284 Achilles has almost the same design as the S1283, but a slightly thinner fan.
85w: 11.6C
125w: 16.0C
150w: 19.6C
This design was corrected with a larger fan with the S1284 EE.
Water cooling, small radiator
There are many cheap, easily installed home water cooling kits available today for the non-extremist. However, most of them keep the cost down by using a very small radiator. At minimum, a water cooler's radiator should use 160mm of fan or more. The Coolermaster Aquagate Mini R80 uses 1 80mm fan.
85w: 16.2
125w: 23.2
150w: 25.7
The bare minimum you should plan to spend on a good water cooling setup is $200. There's no bargains here.
In these numbers, notice how some numbers are similar to the top performing coolers, but some numbers are not. There appears to be a ceiling where a cooler is unable to disperse any more heat.
Note: The Coolit Pure hybrid-Peltier system has recently come on the market at a $125 price point, and has yet to be reviewed.
Final Thoughts
Currently, it seems like we're having a renaissance in cheap, high-performance cooling. But, before jumping into the HSF market and squirting TIM all over your computer like your first prom date, you really need to ask yourself: do you need additional cooling? While HSF's are a cheap and relatively easy way to upgrade your computer, it may or may not be the best way to spend $50. Just because you are using the stock box cooler, that doesn't necessarily mean it's a bad thing. The only reason I'm getting one is because I'm planning to overclock my CPU. The stock HSF works fine on my computer, with temps of 43C idle (CnQ) and 55C load.
Also, if you are planning on doing really extreme computing, air cooling might not be the right choice for you. Water cooling, air conditioning, or a hybrid-Peltier might be a better (or worse!) choice depending on your needs, weather, humidity, etc.
Whether you decide to get a new cooler or not, I hope everyone who's read this article has learned something, novice or professional.
References:
Pricing:
www.newegg.com
www.pricewatch.com
HSF reviews:
www.frostytech.com
www.tomshardware.com/reviews/Components,1/Cooling,7/
Computer Cooling:
en.wikipedia.org/wiki/Computer_cooling
Installation:
www.innovativecooling.com
www.amd.com/us-en/assets/content_type/white_papers_and_tech_docs/cooling_guide.pdf


-------------------------


9750 X4 // 8600 GT // PC-6400 DDR2 800 mhz 1gig X 2 // WD 500 GB SATA HD // 580w PSU // Core Contact Freezer w/ IC Diamond 7 // DVD-RW // Win XP 32 bit // CPU-Z Validation #420180
Edited:
09/21/2008
at
06:01 AM
by
Superhal