Here is a chart i came across that I thought I would share, It shows full Multipliers and how they coraspond to the memory speeds. You can use it to cross refrenece what speed your memory should be running at based on your multi. As well as overclocking. For example
My 6400+ runs at 3.2Ghz, but when overclocking it on the 16 multi, i cant get the full potental out of my memory.
Using the stock 16multi and a 215Bus speed, my sytstem runs at 3440mhz with a Ram speed of 860mhz.
But when refering to the chart below, i found that if i dropped my multi to 14, it kept the memory running at 800mhz by the divider. Therefore,
14multi x 244mhz bus = 3416Mhz for the cpu and 976mhz for the Ram. Thats a 116Mhz increase of the memory, and im not forcing the cpu to go beyond what it can handle.
Just thought maybe someone could use it.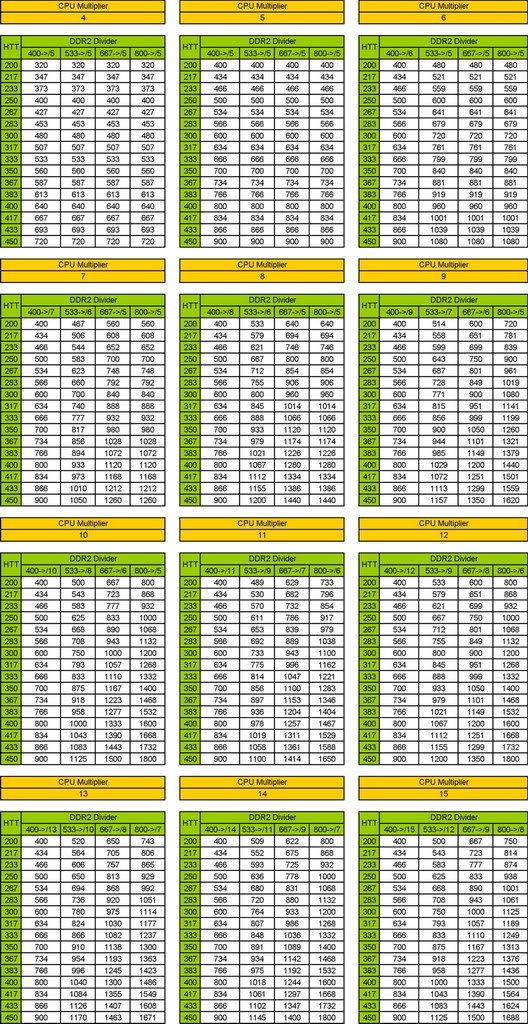 -------------------------

i7 2600K - Asus Maximus Extreme-Z - G.Skill DDR3 2133 CL9 - MSI 5870 - Corsair 1200w PSU - 2 x Western Digital Raptors Raid 0 - Swiftech Apogee XT Water Block - Swiftech MCP655 Pump - 120mm Quad Rad - Windows 7 - Ubuntu x64
5311Mhz Validation