So this is a simple way to find out what temps are being reported by your motherboard. Most people have no clue which temp is which... and the funny thing it is so easy to verify if the software you are using is reporting the correct names for temps.
Software that reads temp sensors vary... and they vary in the names used (even with the same hardware)... so it is crucial to know how to recognize these readings and label them properly.
First step is to get a stress program. In this case I am using IntelBurnTest (but OCCT, Prime95, Everest or anything that hammers the CPU and NB is good).
Second step is to have a few different software for reading temp sensors... Everest, HWMonitor, SpeedFan... For this proceedure SpeedFan is required (or another program that will graph temp readings if you know one).
SpeedFan 4.44 Download
Install SpeedFan and run it, go to the charts tab, check of all of the temps available (except Core, that is almost useless since it is not a measured temp, it is calculated)... Then run your stressing software... let it run for a few minutes so you can get a good view of the graph's heatup behavior. In my example I ran it for 4-5 peaks on the see-sawing temps... then stop the test and watch the cooldown behavior
The temp that rises and falls the fastest is your CPU... the temp which rises slower and not so high as CPU (but mirrors it on a delay) is your NorthBridge.... the temp that does not change (or at least very little) is your motherboard temp
Here is a screenie of what I just did on my setup: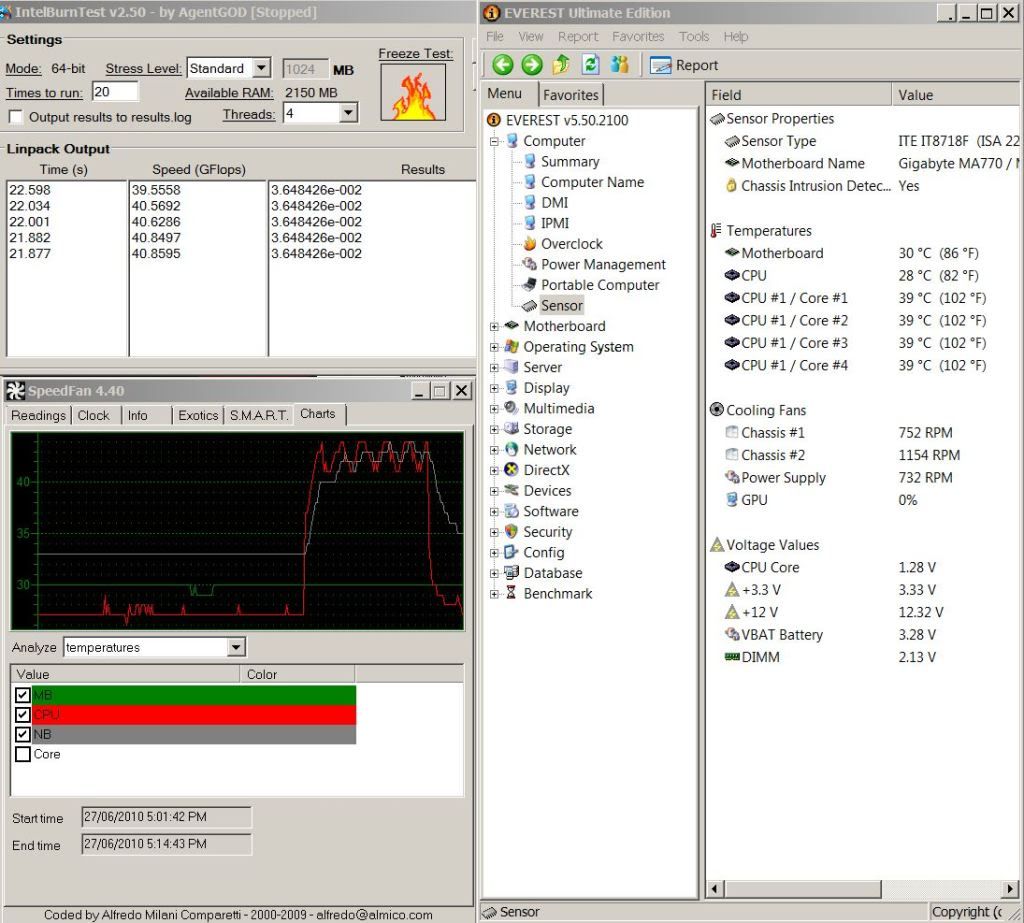 As you can see the temp that moves the fastest and highest is labeled properly as my CPU.
Everyone should do this to verify the temps being recorded in their favorite software are actually labeled properly.
QB


-------------------------

---
The MONSTER HTPC
---
CPU: AMD Phenom II X4 965 C2 (140W).||.Cooler: Corsair H80i
MB: Gigabyte 990FXA-UD7.||.RAM: 8 GB Mushkin Blackline DDR3 2000MHz (7-10-8-27-1T)
Case: CoolerMaster HAF 932.||.PSU: Corsair HX750
GPU:HIS IceQ 5 Radeon HD 5770 Turbo 1GB.||.Audio: Creative X-Fi Titanium Fatal1ty Pro w/ Logitech Z-5300e (5.1, 280W-RMS)
Drive: 2xKingston SSD 40GB RAID0.||.Storage: 6TB (4x500GB Caviar Black RAID0, 2TB Hitachi & 2TB Caviar Green)
Edited:
07/30/2011
at
07:04 PM
by
QB the Slayer