I came home today to find an abnormally huge package sitting just inside the door:
Whew, it was a pain to carry that around my house and down the stairs as it weighed 87.2 pounds! I needed a drink! The can is also to give you an idea of just how big the box is.
All right, time to get out the box cutter!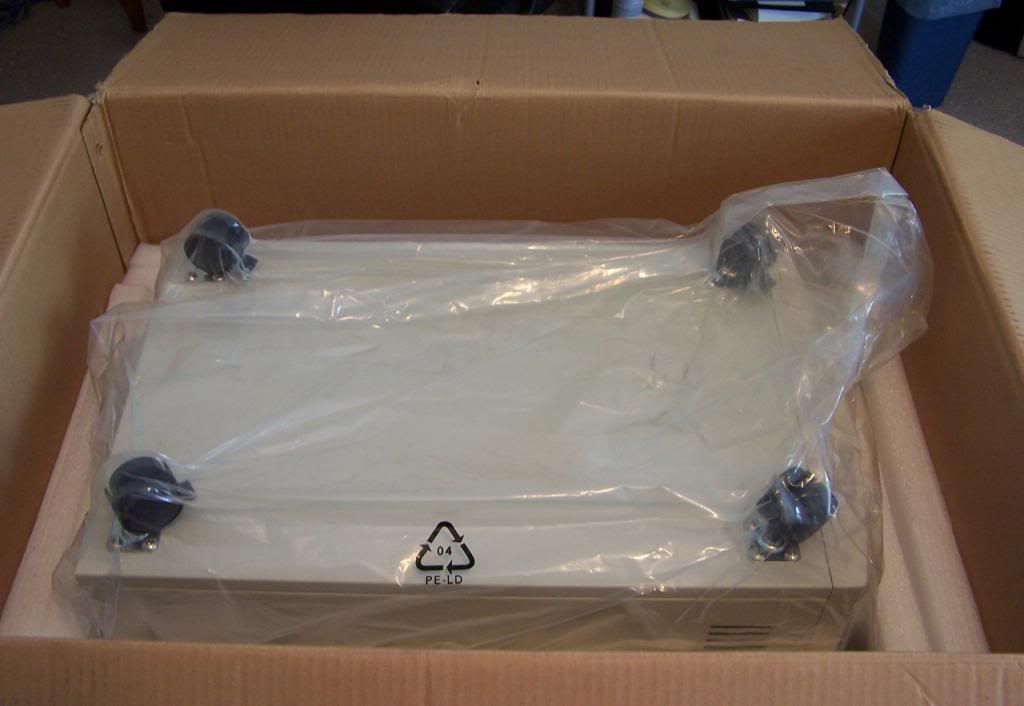 Uhp, it looks like a breech delivery with intact membranes.
One BIG pull and it's out. The thing is almost entirely constructed of 1.2 mm-thick steel, and it sure feels like it.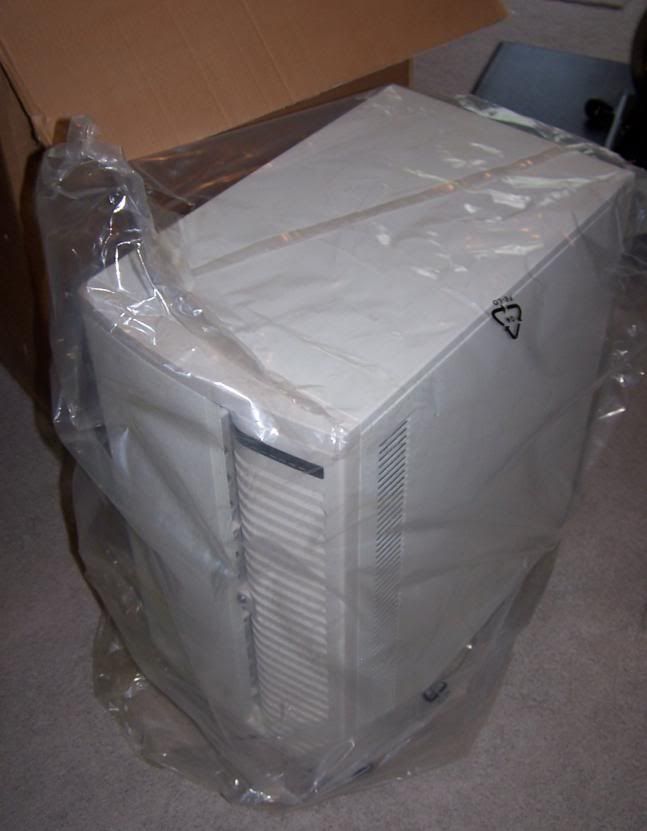 Boy, that's one
enormous
case! After getting the leaf-bag-sized cover off the case, it's time to take a better look at it.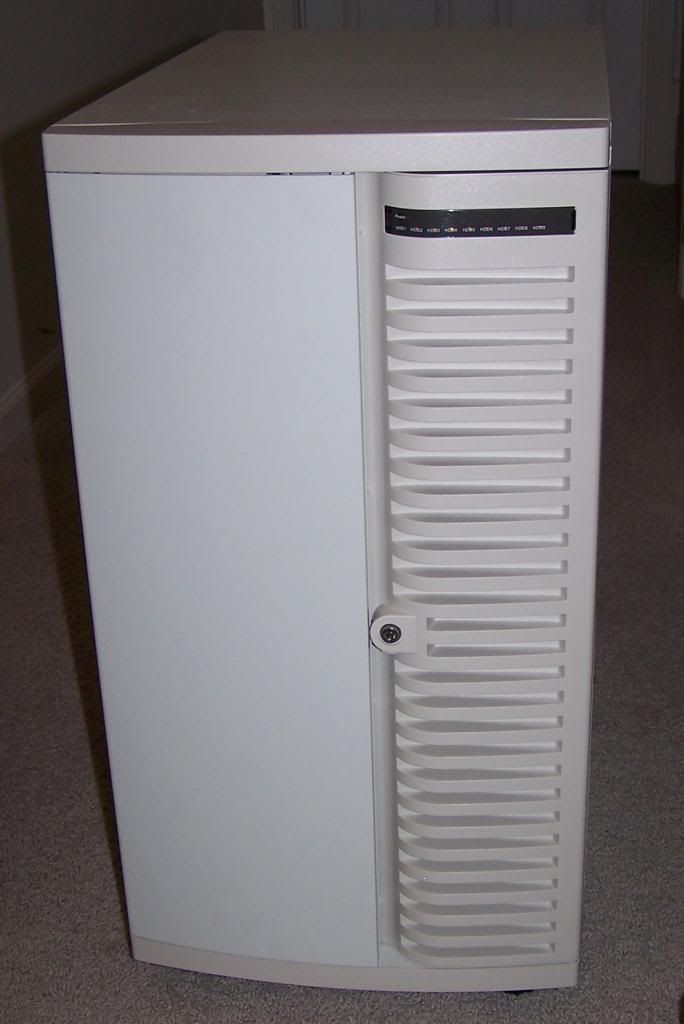 Looks nice! The LED display panel has enough indicator lights for nine HDDs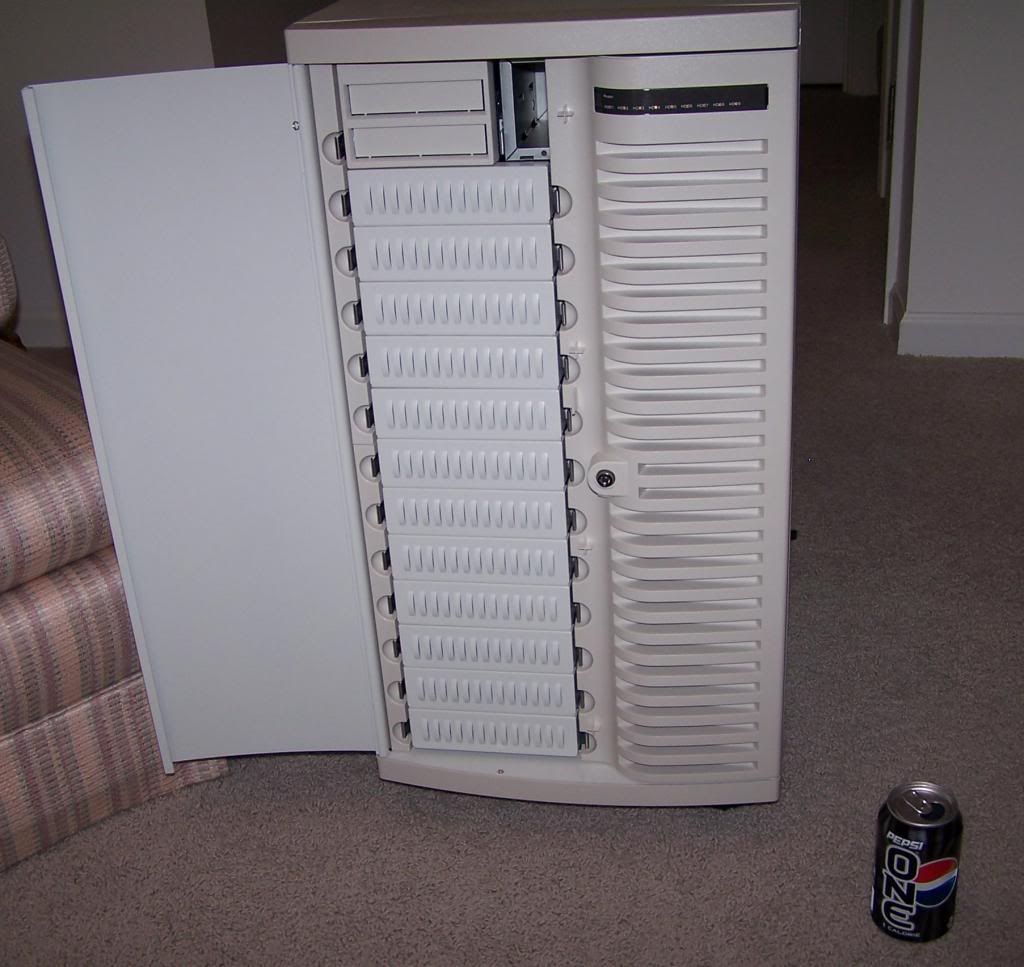 The door is solid steel. The only plastic parts in the case are the right front vent panel, a couple of fan shrouds, the casters, and the MB tray handles. That's it. The 5.25" tray spacers are even made out of steel. It feels like a bank vault and weighs like one. One curious omission here is a power and reset button. The case simply lacks them.
It won't be hard to put some in there (that little open spot next to the 3.5" bays will work well for installing switches) but it's a very odd omission.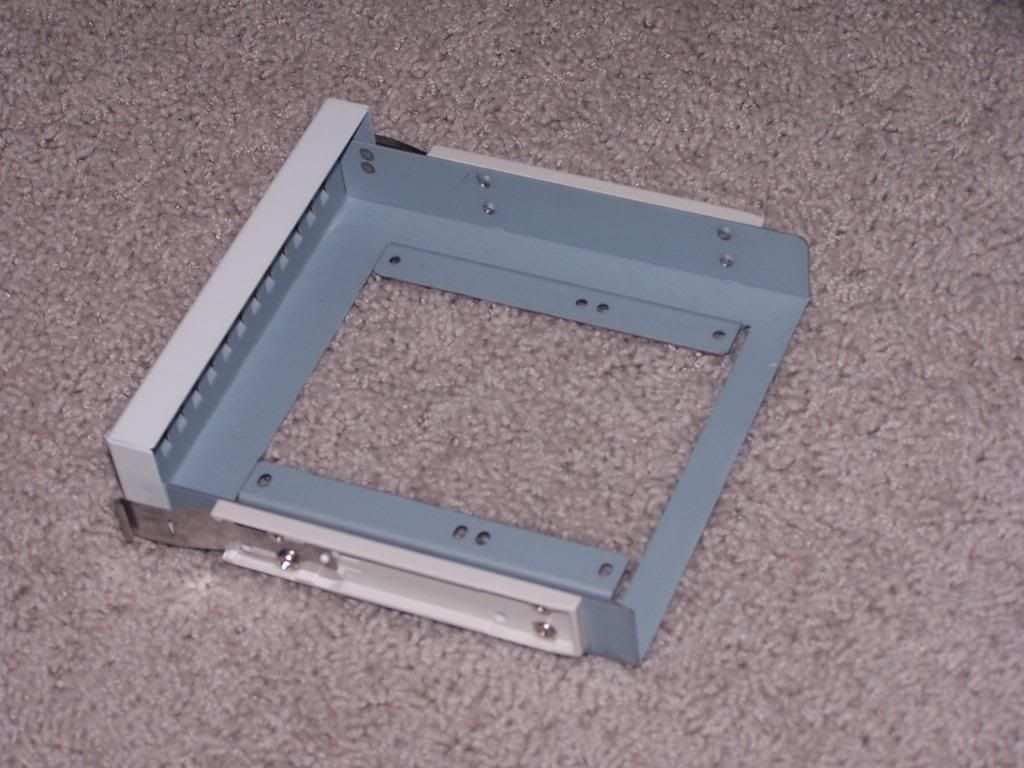 These are the 5.25" drive carriers. The case uses detachable steel drive rails, which you can see on the side of the carrier. These carriers also have holes to mount a 3.5" HDD to the carrier, which is a unique touch. I'll probably get some proper drive cages, but it is neat that I do not need to get them.
Yup, it's a big old-school server case. No lights, no window, no side air intake. The other side looks identical to this one.
This is an interesting view. If you look closely at the rear I/O panel, you see punch-out grommets below it for external SCSI cabling connectors. The PSU mounting bay is unique as well. It holds two ATX/EPS PSUs, except they're facing laterally (the "bottom" of the PSU faces to the side panels) instead of vertically like every other case I've seen. The four fans are 92 mm units, in case you were wondering.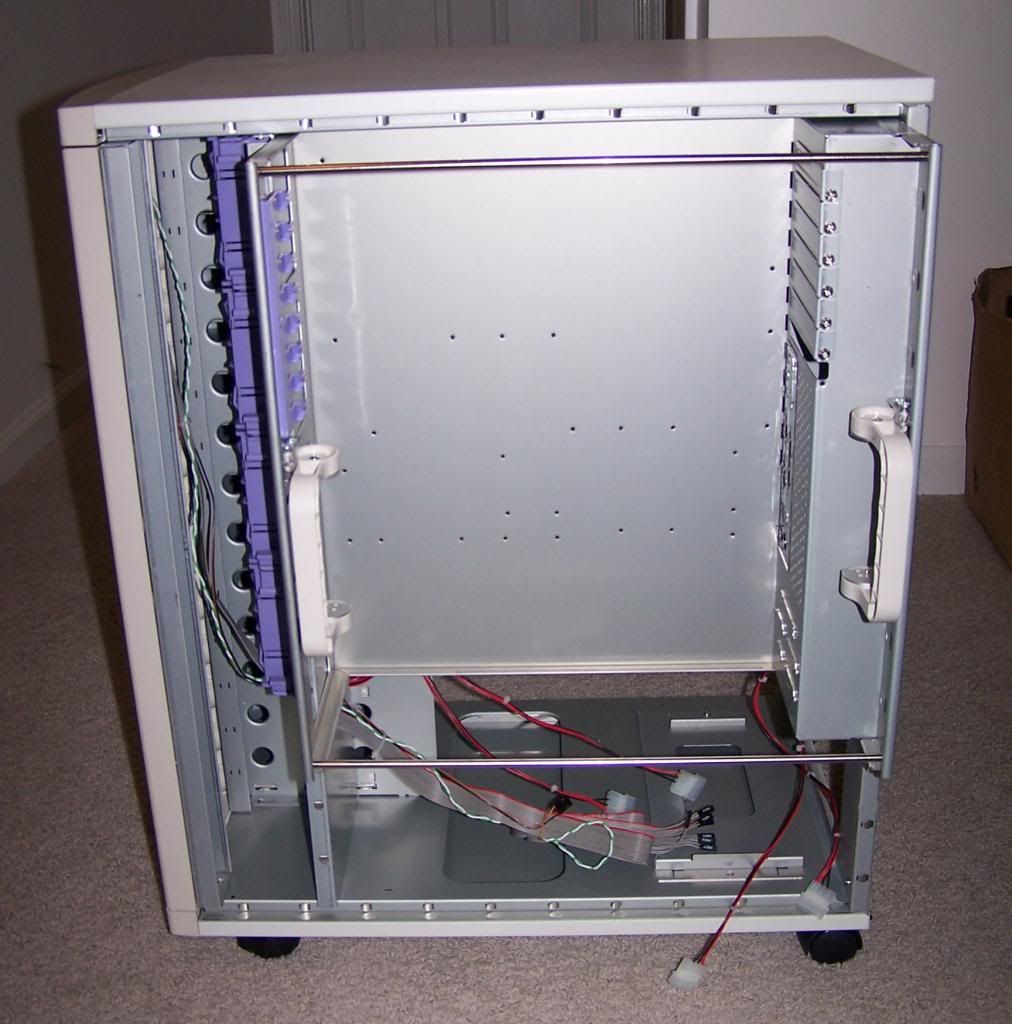 This is the business end of the case. The motherboard tray is mounted in a removable carrier unit that has two large handles that are used to pull it out of the case. The carrier locks into the case by rotating the handles inward. There are four additional 92 mm fans blowing over the motherboard carrier. The fans are wired two fans per Molex connector with a wiring harness (the fans have a 3-pin motherboard fan header connection right on the shroud.) I plugged one into an external HDD power brick with a Molex connector to fire a couple of the fans up. The fans all work, but they're typical old-school higher-RPM units with no speed control so they're a lot louder than I am used to. Fortunately, it shouldn't be too hard to slip a resistor into the detachable harness and bring the fans down to reasonable RPMs and noise levels. The ribbon cable is for the HDD indicator lights.
The case is supposed to fit a quad-socket SWTX/SSI MEB motherboard. That's pretty much the reason I bought this particular case. All of the 4P Opteron boards I know of will fit in this case as the carrier is 16.5" by 13" (yes, I measured it myself just to make sure!)
I will need to tap the tray for the additional standoff holes needed to mount a 4P board as this case is tapped for micro ATX to EATX boards, but that's a teeny tiny modification compared to people doing major surgery on full tower cases like CM Stacker 810s to fit 4P boards.
Speaking of CM cases, here is the motherboard carrier set next to my HTPC's CM Cavalier mid-tower ATX case. The carrier is about the same size as that entire case!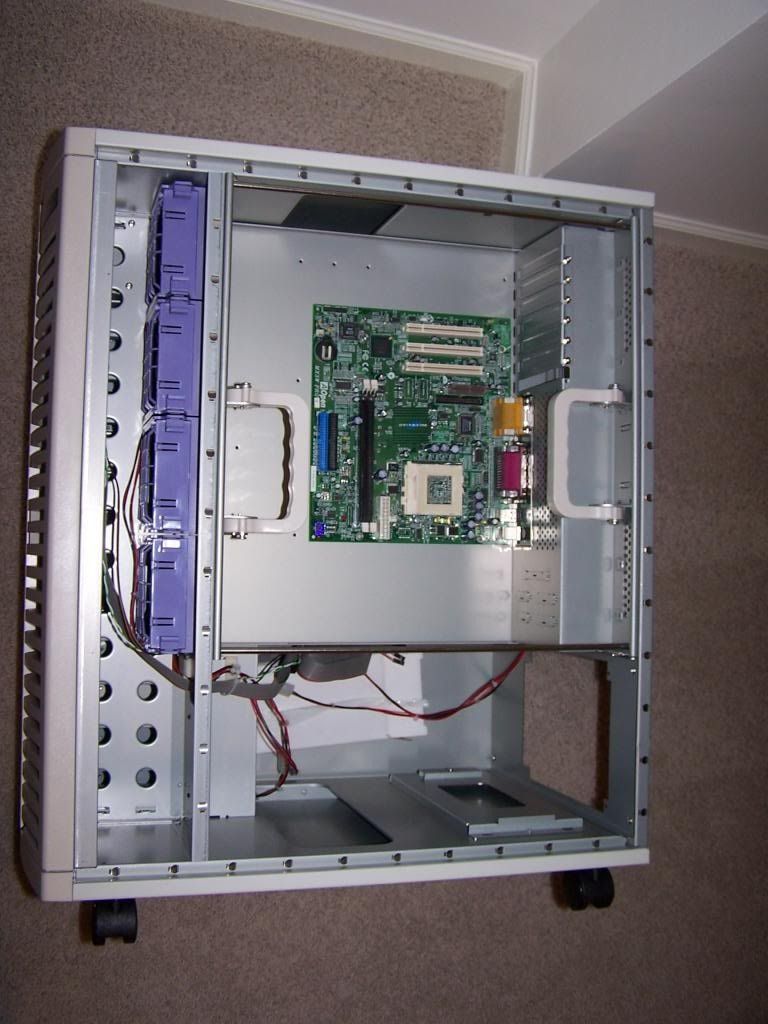 Here is my file server's original AOpen micro-ATX PIII board resting in the MB tray for kicks. It looks lost in that massive sea of steel! Note the MB carrier handles are turned inward, locking the carrier to the case.
The case is nice and open with the MB carrier removed. There should be plenty of room for good cable management and airflow.
So all in all, I am very happy with this case and it should an excellent platform for my upcoming 4P build. It was one of a handful of cases I found that could fit a 4P board without massive modifications and the only one under $500. If any of you are wanting to get one of these cases, it's a
Chenming ATX-801F
file server case. I ordered mine through the only reseller I could find, which was (
GeoData Systems Management, Inc.
) for $289 plus $55.50 in shipping. They had the case drop-shipped directly from Chenming's California warehouse the afternoon I ordered it. I was impressed with the whole deal and would recommend it to anybody wanting to take advantage of AMD's very favorable Opteron 6100 pricing and put together a 4P machine.
I will have to wait a little bit to start my 4P build, but I got the hardest part out of the way. I'll let you know when I start that. Ooooooh, I am sure looking forward to it, though!


-------------------------