Any of you have any problems with Passmark, specifically with 3D benchmarks? Mine locks up ever time of the complex benchmark, everything else runs just fine. I loaded a baseline that is close to matching my system, actually I believe it may be Vellium's system because it starts out x940c. Mine is scoring slightly higher than this baseline, except in the 3D video. What tests I can run seem to be scoring quite a bit lower than the baseline, which has a Radeon 4850. I'm running two 4670's in crossfire, which should be pretty even with a 4850. Here are my results: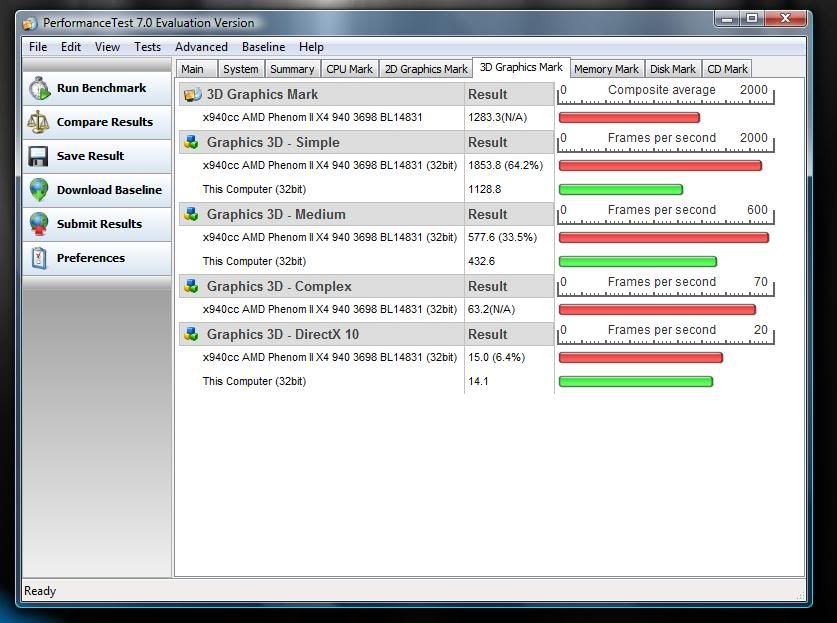 Any ideas? I also have them both overclocked, GPU clock at 790 MHz and memory clock at 1040 MHz - This is in Catalyst Control Center. AOD shows GPU status like this:
Engine 164.95
Memory 249.75
Has any of my recent changes (Kaz and Guru know what I'm talking about) affected my video in some way, and is there something else I could do to fix it? I know last time I played Wow a few days ago, it was running fine at 1080p, everything maxed, and 65 fps. Thanks!
Bob


-------------------------

Phenom II X2 555 B.E. Unlocked to X4 @ 3.4GHz
ASUS M4A887-M/USB 3 Micro ATX MB
8GB G.Skill Ripjaws @1600Mhz, 7-7-7-21
Radeon HD 5570 1GB 128-bit DDR3 Graphics Card
Crucial 64GB SATA III SSD
OCZ ModXStream Pro 600W Modular PS
Silverstone HTPC Case