Sorry, but I placed this troubleshooting post in the wrong section (specifications) so that is why it is duplicated here.
I think this is the correct place for it. The other post in Older Processor Info and Specs needs deleting.
There is an error with the configuration of the SCSI & RAID Controller in Device Manager here ...
Microsoft has now blocked my closing this Resources window until the I/O & IRQ forced configuration is set ...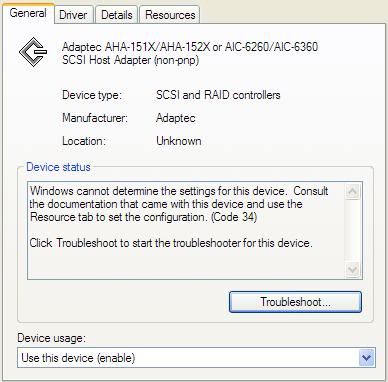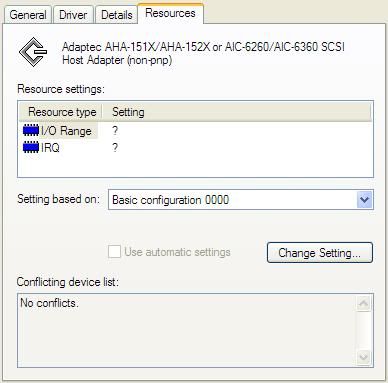 Can you please help me to do this because I am unable to log off Windows until these settings have been set. These settings are for advanced users and I do not have the technical knowledge to do it.
I have included a list of the current IRQ's & I/O's I just need help allocating the correct ranges to the Adaptec Driver.
I have also inserted the original driver floppy which came with the computer and clicked the update button to complete that process. No changes were made.
SCSI & RAID Controllers:
Adaptec AHA-151X / AHA-152X or AIC-6260 / AIC-6360 Host Adaptor (non pnp)
Driver version: version 5.1.2600.5512 Date: 01/07/2001
I also have this event application error logged ...
Faulting application ctsysvol.exe, version 1.4.1.0, faulting module unknown, version 0.0.0.0, fault address 0x00985af3.
Start / Programs / Accessories / System Tools / System Information
System Resource Information - IRQ's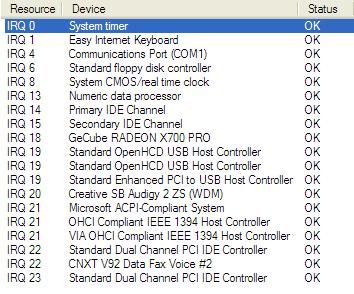 System Resource Information - I/O's
Edited:
02/16/2011
at
07:55 PM
by
daveandrogan382