So lastnight I was asked to go to the forum chat... and well, we who were there found out very quickly just how much it sucked! So being the guy I am I said I would set-up something better... something that is eazy peazy and quick for people to learn.
A few years ago I was playing Tribal Wars Online and my Tribe was doing all their discussions via Skype. At first I balked at the idea of using Skype for this... I did not even think it did such things.... But in the end, to play better and be part of the team I downloaded Skype and quickly found just how awesome and powerful a tool it can be. Lastnight, it was the first thing that popped into my mind.
Now it had been a few years since I last used Skype, so I had to get familiar with it again and learn all the new things. But 5 hours later I think I am ready to post this message and get more people onboard with this. So far PC-GURU and TravisFTW are in.
Features of Skype for Chat? Here they are (ones I have found, I am sure there are more!):
1) History of conversation (400 messages or 2 weeks, whichever comes first)
2) IRC like chat options. Access control, user levels/roles (ie. admin privileges, sort of)
3) Message editing... you can use the [UP ARROW] to edit your messages on the fly. No need to post a second message for a correction (Editing is indicated by a little pencil beside the time stamp of the message)
4) Personalized alerts... you can set up keyword alerts for individual conversations and set alert types. Very useful if you are like me and you have a group chat closed and want to know when "your name" is called
Now on to the heart of the message!!
First, download Skype and install it. And for all you out there who think it might be a resource hog (and really is your system that old that you need to worry about resources!) it is currently only using around 40MB of memory (less than a third of what Azureus is using).
Get Skype here!
Second, setup a user name (if you don't already have one)
Third, add me (qb.the.killer) as a contact. I will then send you my Team Fusion contact list, not needed, but it will help to get you started.
Then click this link to go to the group chat:
Overclocker's Corner: Home of Team Fusion
Click on the awesome Dragon (Thanks kleetus!)
Now there are a few rules to follow to keep this chat active for you.
1) DO NOT CLICK "Leave Conversation" (you will need to be invited back in if the Chat is closed to joining)
2) DO NOT TYPE "/leave" same as above
3) DO NOT DELETE the conversation from your conversation tab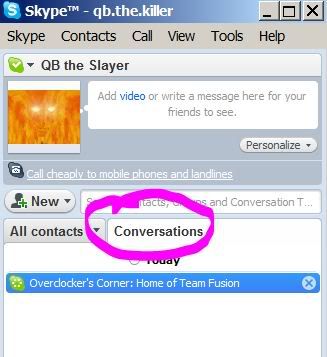 Simple.
So I have made the chat open to everyone for now and newbies can post... at least I hope I have set it up properly for that. I am sure I will hear if I did something wrong
Please come one and come all!
QB


-------------------------

---
The MONSTER HTPC
---
CPU: AMD Phenom II X4 965 C2 (140W).||.Cooler: Corsair H80i
MB: Gigabyte 990FXA-UD7.||.RAM: 8 GB Mushkin Blackline DDR3 2000MHz (7-10-8-27-1T)
Case: CoolerMaster HAF 932.||.PSU: Corsair HX750
GPU:HIS IceQ 5 Radeon HD 5770 Turbo 1GB.||.Audio: Creative X-Fi Titanium Fatal1ty Pro w/ Logitech Z-5300e (5.1, 280W-RMS)
Drive: 2xKingston SSD 40GB RAID0.||.Storage: 6TB (4x500GB Caviar Black RAID0, 2TB Hitachi & 2TB Caviar Green)
Edited:
06/18/2010
at
04:37 PM
by
AMD Processors Moderator