Graphics Card
- Powercolor Radeon HD5770 1GB
- No OC has been done. Current clock values: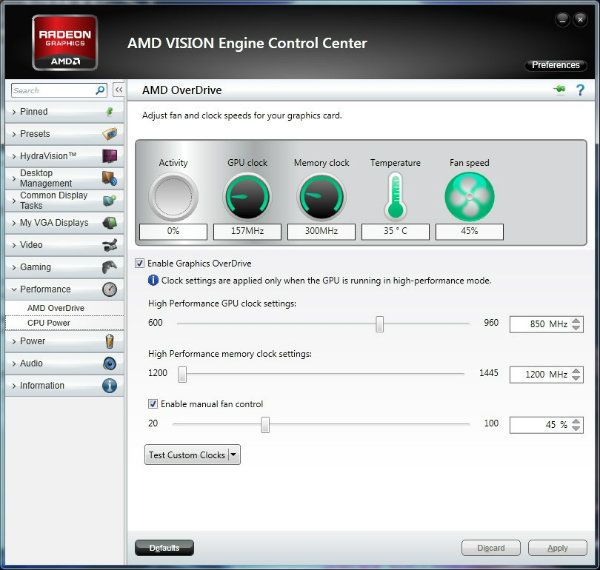 AMD Catalyst Driver Version, and Driver History
- 12.10, upgraded as new ones available. My problem has been a long one randomly occurring regardless of driver version. However, more often with certain games (Torchlight 1, Burnout Paradise, Warcraft III, any Deathspank game, Carté, Bejeweled, Turtix)

Operating System
- 64-bit Windows 7 Service Pack 1
- problem also occurs on 32-bit Windows 7.

Issue Details
- While playing a video game, vertical lines come up on screen colored with most prominent color on screen at that time. (If there are a lot of blue on screen, blue vertical lines appear.) Sound may continue to play. In most cases sound goes into a stuttering noise or gets corrupted. Then, pc restarts after a few seconds.
- I tried using manual fan control from AMD Overdrive and upped it to 60% even. Still crashes occur. Lately on Burnout Paradise which is the game I've been playing.
- Rarely, my computer seems to stop responding while on desktop. After several seconds, a tooltip from taskbar tells me "video hardware stopped working but it was recovered" (not exact message). And it goes to normal. During this time, what I do with my mouse or keyboard is not reflected on screen. This usually happens right after I exit from a game. Very rarely pink dots appear on screen during this unresponsive short time and they flicker.

- I use default setting for games except for resolution. I set it to my monitor's native 1920x1080 resolution. This means V-sync and anti-aliasing and other extra features are unchecked in most games.

Motherboard or System Make & Model
- Gigabyte GA-MA770T-UD3P

Power Supply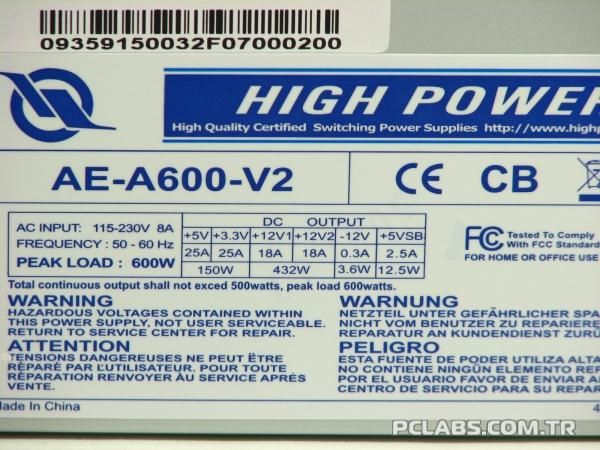 - High Power AE-A600-V2

Display Device(s) and Connection(s) Used
- LG Flatron W2243S
Applications and Games
- Torchlight 1
- Burnout Paradise
- Carté
- Warcraft III
- Deathspank 1 and 2
- Bejeweled
- Turtix

CPU Details
- AMD Athlon II X4 620 2.60 Ghz
- No OC has been done.

Motherboard BIOS Version
- Award Software International, Inc. F11, 11.03.2011
- SMBIOS Version: 2.4

System Memory Type & Amount
- 4 GB total, Kingston 2x2 Dual DDR3 1333

Additional Hardware
- Samsung 750 GB SATA2 32 MB NCQ HDD
- Samsung SH S203B Optical Drive
- Dark Racer 600 W case, has large side fan, middle sized front fan, middle sized back fan.

Additional Details
- Microsoft Security Essentials is installed, regularly updated and pc scanned. Usually quick scans but full scans are done as well.

Edited:
01/12/2013
at
08:17 AM
by
xavi