Hi everyone, I recently switched to a Radeon HD 6800 Series video card when I suddenly had the issue of not being able to use the extend/duplicate screen functions on my two monitors, which I never had any problems using an older video card.
My primary monitor (1080p) is using the DVI port while I have a 55" LG TV (also 1080p) on the HDMI port. CCC detects both monitors but only the primary monitor is enabled while the other is always disabled.
The only thing I can do is Exchange Display which works, but not duplicate/extend. The detection screen always looks like this: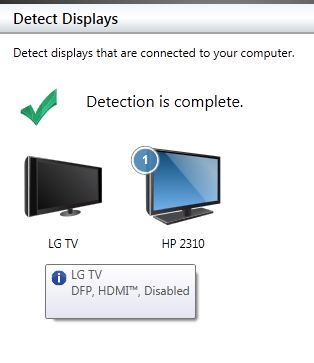 Has anyone found a way to make the duplicate/extend desktop functionalities work? I'm using Windows 7 64-bit Home Premium BTW.
Huge thanks in advance for any help!