So...

(Latest Update)
Found a workaround/semi fix.

I installed the latest gpu driver, uninstalled ccc (NOT express uninstall) and then installed the drivers from the saphire cd, I also had to restart my pc for this to work.
I can play all games, it's still abit dodgy cos it still crashes occasionally, but for the most part everything works well. Still have fps issues with Rome 2, but I'm sure that everything will be fixed with stable drivers.

Conclusion : My card is not faulty. gpu-z, pc wizard, amd overdrive, saphire trixx all need to be updated. Most games are playable, battlefield 3 maxed out ran like a charm so no problems there either.

I hope this thread helps anyone who is having similar problems. If you have other workarounds which worked for you, please post them below together with your specs & all steps taken.

If you have no clue about this, sharing this post will always help.

Oh, and amd support never contacted me back. I guess they're busy making drivers which work.. or at least I hope they are..
(Original Post)
First I tried installing the drivers via amd website, but they weren't fully installing, I had a lot of missing features...
I tried reinstalling drivers, driver sweeper..
I can't figure out why this is happening.

And it's really frustrating tbh.
AMD saphire R9 290x
catalyst 13.11 beta
w 8.1 (64 bit)
symptoms : see link (very low fps, crashes, barely able to play anything because all games are crashing on launch. Managed to play Rome 2 but the framerate was a disaster.)
Mobo : Asus crosshair v-formula with latest bios : Crosshair V Formula BIOS 1703
silverstone sst-st85f-p (850w)
Samsung bx2350 & acer s240hl
Amd fx-8150 @ 4.8 ghz
corsair vengeance 8gb ddr3 @ 1600mhz
ocz vertex 4 ssd 256 gb

Any help please? For some reason all the people who make reviews had good drivers, or maybe it's just my pc..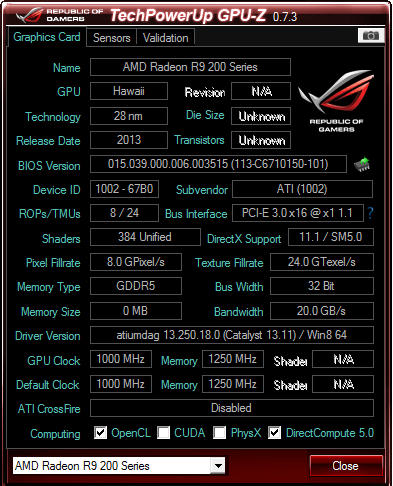 -------------------------

Asus crosshair v-formula
AMD fx-8150
AMD Saphire R9 290x
2x Corsair Vengeance 4gb ddr3 @1600 (8 total)
OCZ Vertex 4 ssd - 256gb
silverstone sst-st85f-p (850w)
Samsung bx2350 & acer s240hl
Cooler Master HAF 932
Edited:
10/27/2013
at
11:57 AM
by
nutyboi