UPDATE February 1st, 2013:
If you would like to skip ahead to the RAID configuration please jump to post #2
So it's been a while and since my last foray into SSD setups and RAID0... my Hardware has changed and so too have many of the assumed settings that people are always promoting around the net. Gone is my SB750 replaced with a SB950 (GA-990FXA-UD7) and gone are my dual Kingston SSDNow 40GB SSD's (Intel controller) replaced with Dual Mushkin Chronos 60GB (Sandforce 2281 controller).
I still have my 4x500GB Caviar Black RAID0 and I use it to it's full potential all the time... I do a lot of encoding and extracting and the very fast sequential read/write speeds of this array makes all the tasks I do on the 300GB short stroke complete in no time at all. Because of this, I will always use RAID setups.
So lately I have been pondering if my SSD RAID is actually the best setup for performance and whether or not switching to AHCI might in fact be a better option. My current board has 8 internal SATA3 ports (6 AMD and 2 Marvell) however in order to use my 4xRAID0 it means I need to keep the AMD SB950 controller in RAID mode and unfortunately this limits my options for going over to AHCI since ports 4 & 5 can only be SATA type or IDE type. That leaves the Marvell SATA3 ports which can be set to AHCI... so I decided to see how one of my SSD's performs on the Marvell ports under AHCI. After a fresh install these are the results using the default MSAHCI driver: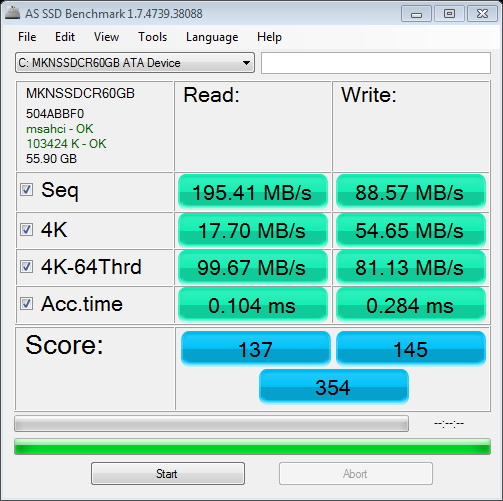 Results are not bad and the system runs like a champ... however the Read speeds are nowhere close to my old Dual Kingston SSDNow 40GB in RAID0 and the write access time is actually quite horrible... Here is a shot of my old SSD's in RAID0:
So maybe installing the Marvell AHCI drivers will help... here is the results: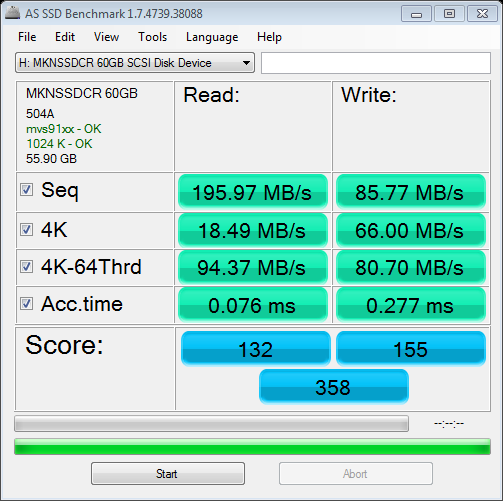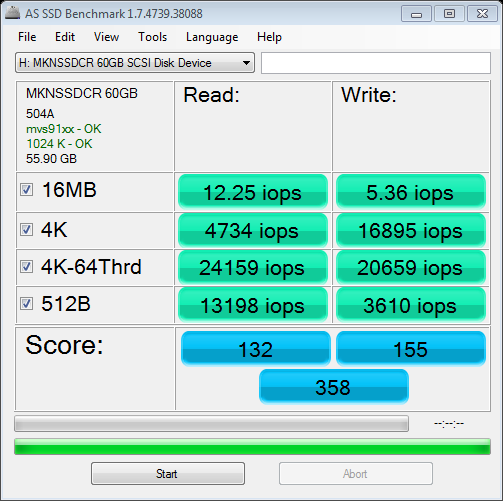 Only slightly better! Okay so now what? Maybe I can see if making a Striped Dynamic Volume in Windows and running the SSD's that way will be good... So I pull out my very old 120GB SATA1 drive that is 9 years old and install windows onto that (wow does she ever make a racket!) and then go about creating my striped dynamic volume using the two Mushkins... here are those results: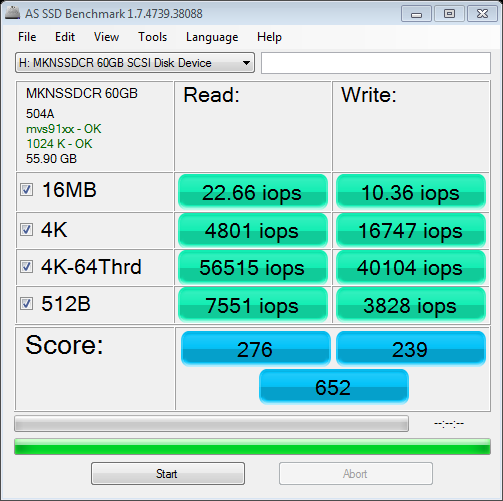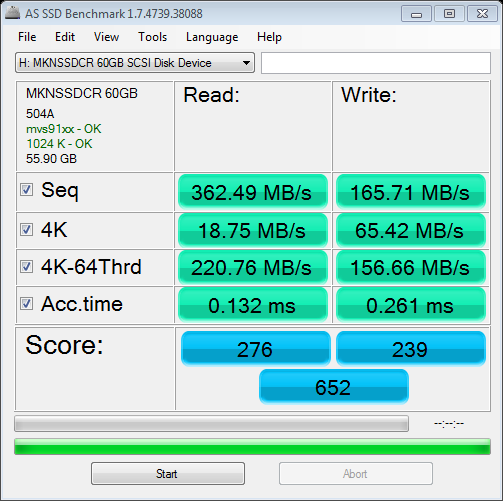 Wow... AS SSD show a very nice improvement Access times take a hit and 4k writes show zero improvement... and ATTO is behaving like it is just one single disk... very very odd. Now if only I could get the OS on this Volume and see how it runs. But Try as hard as I could using many different applications and tricks... there is just no way to get a bootable Windows install on a Dynamic Volume. Grrrr time wasted for nothing!!
So it's back to the RAID0 option for the SSD's and these are the results:
As you can see this does indeed seem to be the best performance for both sequential and 4k as well as access times (the read access times throws up an error after you restore an image using acronis, but it was 0.085 or less for sure!)
.
.
.
cont. next post...


-------------------------

The MONSTER HTPC:

CPU: AMD FX-8350.||.Cooler: Corsair H80i
MB: Gigabyte 990FXA-UD7.||.RAM: 8 GB Mushkin Blackline DDR3 2000MHz (7-10-8-27-1T)
Case: CoolerMaster HAF 932.||.PSU: Corsair HX750
GPU:Asus R9 270X DirectCU II TOP.||.Audio: Creative X-Fi Titanium Fatal1ty Pro w/ Logitech Z-5300e (5.1, 280W-RMS)
System Drive: 2xSamsung 840 Pro 128GB RAID0.||.Working Drive: 2xMushkin Chronos 60GB RAID0
Edited:
02/01/2013
at
02:21 PM
by
QB the Slayer