So I had no problem until today when I started my PC. Problem with both of the display adapters. The Intel one can be fixed by reinstalling the drivers.
The AMD one is the problem. I tried a system backup, but still nothing worked.
When I try to start it, it's not starting at all.
When I open device manager:
When I try to get rid of it no uninstall button: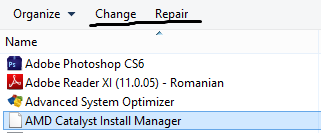 If I select change/repair:
If I try to install a new version of the driver:
I'm using Windows 8.1 x64 and I had all my drivers up to date until today (including BETA versions).
Hope you can help me.