hello,
I have an HP Pavilion 17-e083ed with amd a8 and 8550G apu.
I installed Windows 8.1 again and i installed catalyst control center.
there is an option to manual change cpu speed, thats handy for games or work
but today this option is gone!
[url=http://www.imgdumper.nl/uploads7/531a4bba7524e/531a4bba74e64-amd_ccc.PNG]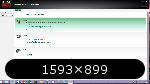 [/url]
whats going on here?
can anyone help me pleass!!