As the title says my AMD Driver keeps crashing every time i start a game or play for a while. Sometimes i even get BSOD with description (used a program to see the logs) that my DirectX kernel has lost power or something like that. Basicly after i updated my BIOS to the latest (F8) my AMD Driver started crashing non-stop. Any ideas? My motherboard is Gigabyte H87M-HD3 (F8 bios) and my GPU is Gigabyte R9 280x.
Edit: I already tried few ways to downgrade my BIOS back to F6 but no success. I even tried interupting it while flashing so the backup BIOS can kick in but no luck again. It seems i'm stuck with that F8.
Edit 2: As required there is the aditional information provided:
Catalyst current version: 14.4 (tested 14.2 and the problem persists)
OS: Windows 7 SP1 x64 and Windows 8.1 x64 (the problem appears on both)
Issue details: Whenever a game is runned, few time after the start the driver starts to crash and the screen is going black then restored to normal. Sometimes it just freezes, the sound freezes too, and the BSOD appears. Cant provide any pictures of the problem. The games i'm currently running are Diablo 3, COD Ghosts and DotA 2. All 3 ran on their maximum video settings.
My CPU is i5-4570 (locked by stock, cannot be OCed )
RAM: Kingston HyperX Blu 8GB 1 stick, no dual channel.
My HDD is WD 1TB Caviar Black.
A screen of the BSOD: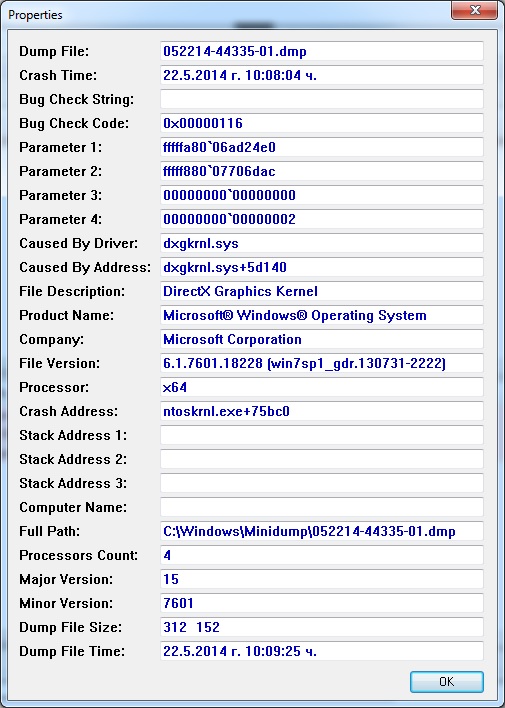 Edited:
05/23/2014
at
11:47 AM
by
ev0lut1on