Update to an old thread.
Upon more investigation and many hardware resets I have discovered more symptoms.
First off Sys Specs:
MOBO: Asus P6X58D Premium
CPU: Core i7 (Bloomfield) @ 4.2ghz / cooled with Antec Kuhler 920
RAM: 6gb Corsair Dominator GT @ 1600MHZ CL 7
GPU: 2x HIS 7950 in Crossfire (Bios 2 Selected) @ 1000mhz core
HDD: OCZ Synapse SSD Cache with 2x 500gb RAID 0 WD Caviar Blacks
SOUND: X-fi Titanium
PSU: Thermaltake Toughpower 1000watt
CASE: Antec 1200
OS: Win7 64bit
DISPLAYS: 3x LG Flatron E2441 LED Widescreens
MINI DP ADAPTER: http://www.accellcables.com/products/DisplayPort/DP/mdp_vga.htm
The other 2 displays are connected via HDMI and DVI respectively.
Now, onto the symptoms, I finally managed to get stable behaviour after doing a fresh install of 12.6 Beta Cats with 12.6 CAP1
However, upon reboot this morning eyefinity and crossfire are no longer stable again.
Now to be clear, the issue seems to be 2 pronged in nature, I notice in another thread here it is mentioned that the 2nd card is stuck in 2d clock mode even at full load while crossfire is enabled.
This seems to be related to the instability of the functionality between eyefinity + crossfire because when it works in a stable manner I have noted (and this appears to happen only after a fresh install of the drivers, as I have repeated the results twice now with seperate clean installs) that the secondary card behaves as it should in crossfire, going between 2d and 3d clock modes seamlessly as load increases.
However as I said, upon reboot the 2nd card is no longer even detecting any clocks at all, it just says "0" for Core and Mem clocks in Overdrive, GPU-Z and Afterburner.
Upon launching a game the second card goes to 99 percent load but appears to stay in 2d mode, and the crossfire display indicator appears, apparently signifying crossfire is functioning, but its not.
Here is where the trouble starts, you can make crossfire behave properly with mucking around with enabling/disabling eyefinity and/or crossfire until it starts to work "properly" but then you run into the freezing and instability.
ONLY after a fresh install does it seem to function correctly, after you reboot it all goes to hell, and even then, this is ONLY on 12.6 beta that I have even gotten that far, all other drivers are utterly useless.
Here is a screenshot of the symptoms.....when this occurs there is no way in hell crossfire will function correctly, but it wont crash.....
And if you mess with it until it does detect properly, the system will freeze....
I really hope AMD provide a fix for this as its pretty god damn disappointing.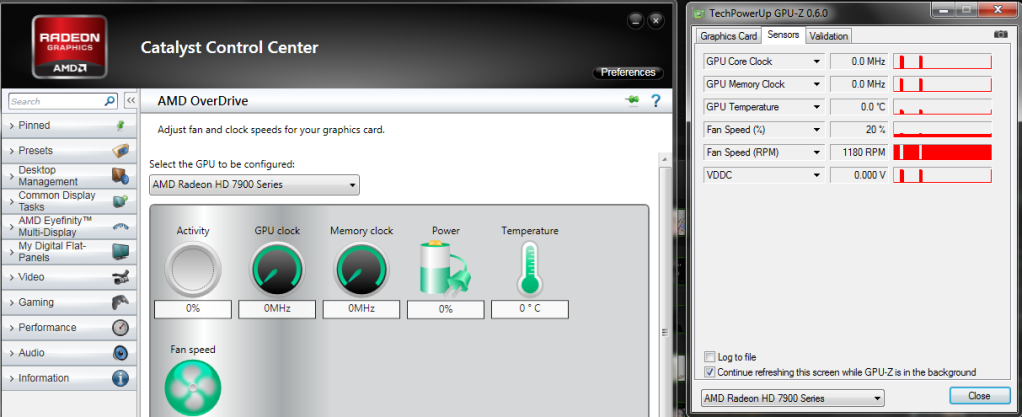 Edited:
06/02/2012
at
08:36 PM
by
Saijan Prince